Support C4
Events
Winter Wellness Fair fosters warmth and community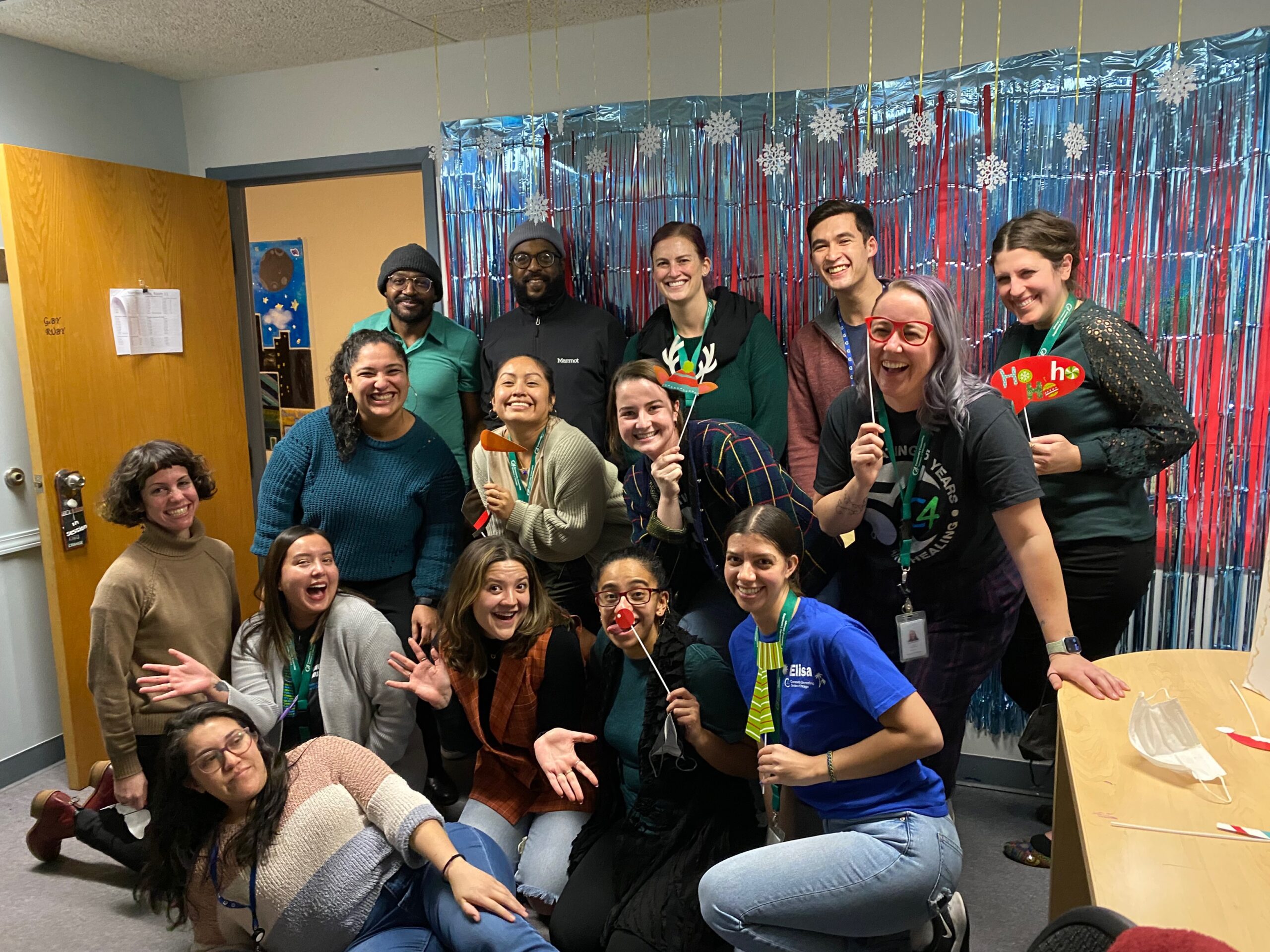 Staff and families at C4's North Avenue site excitedly celebrated the in-person return of the Winter Wellness Fair for the first time since 2019. 
The past two winter client events, held in December 2020 and December 2021, were held remotely via Zoom using care packages delivered directly to clients' homes. Although smaller to ensure adherence to social distancing guidelines for the safety of all involved, this year's event transformed the clinical office into a whimsical winter space for laughter and community. 
Care packages were prepared for the nearly 60 clients and families who attended the event. The package included ingredients for dirt cups, supplies for paper plate snowmen and a picture frame, a bilingual activity packet, and either a gingerbread house or a board game. Each care package was designed for a family of five and was "self-contained" so clients could bring the leftover supplies back to family members who couldn't attend and continue the festivities at home. 
Central to our philosophy of care, C4 staff were intentional in creating an experience that was inclusive both culturally and linguistically. Ensuring the activity packet – which included word searches, coloring pages, and Would You Rather-type games – was in both English and Spanish "took extra work," Youth & Family Services Outpatient Supervisor Cinthia Lopez said, but was done to make the event "as inclusive as possible for clients and their families." In another move towards inclusion, this year's event was much less Christmas-themed than those in past years. Although the celebration has never been overtly religious in any way, said Associate Director of Youth & Family Services Elizabeth Tulsky, the team decided to retire Christmas decorations and having a staff member dress as Santa Claus in order to foster an environment respectful of families with diverse spiritual and cultural traditions. 
In addition to putting on the event, C4 staff accompanied families experiencing financial hardship to purchase holiday gifts for their children. Parents and caregivers chose the gifts and were the ones to give them, and some clients helped pick out gifts for other children and families as well, including a few teens.  
Youth & Family Services Outpatient Supervisor Becca Gebhart named the Winter Wellness Fair as "essential" to C4's work in the community. 
"So much of the work that we do is based around 'What is the problem here?' which makes sense," she said. "But to intentionally put in place these events that will be just positive is good family connection time." 
Further, allowing families to interact with one another – and with clinicians in-person and in a less formal context – helps reduce the stigma of seeking mental healthcare and highlights the availability of community resources.  
"Clients get to see their clinicians in a different light, get to see them talking to other people," Becca said. "It's very humanizing. And maybe they'll recognize someone in the waiting room next time… and not feel so alone." 
Help us expand our community-centered approach to recovery and invest in C4 now by visiting www.c4chicago.org/support-c4