Support C4
Blog
988 Lifeline: Responding to a public health crisis
The nearly 350 percent increase in call volume to the 988 Suicide & Crisis Lifeline highlights the critical necessity and importance of accessible mental health services. 
C4's crisis services are modeled after SAMHSA's Crisis Services: Meeting Needs, Saving Lives system for crisis design, which traditionally comprises three steps: someone to call, someone to respond, and somewhere to go. C4 enhances the continuum with a fourth step – "someone to follow up" – by offering and prioritizing the accessibility of services that provide crisis follow-up care, including peer partnerships, case management, and longer-term therapy.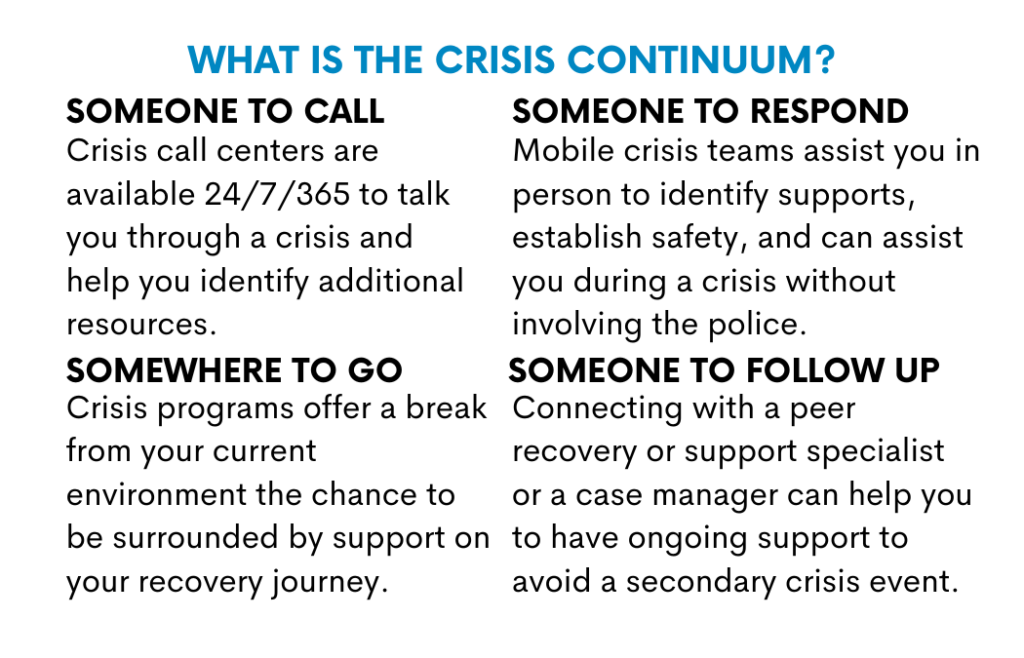 The 988 Lifeline represents the first leg of the crisis continuum, someone to call, and opens the door for callers to access further services, such as Mobile Crisis visits, referrals, and connection to other resources. 
The purpose of the Lifeline is first and foremost de-escalation; contrary to widespread misinformation, 988 services are entirely separate from 911 and other EMS services and are meant to be minimally invasive. Callers are not expected to offer any personal information in order to receive services, nor are they geolocated – calls and texts are routed based on area code and online chats by IP address. A 988 clinician will only initiate police contact in cases of imminent risk or if the caller consents. When a clinician believes a caller needs in-person contact, the next step is Mobile Crisis Response, not police intervention. According to SAMHSA, less than 2 percent of 988 calls require connection to emergency services.  
"Oftentimes, people feel like when they call for help, they think I'm going to call 911," said Crisis Stabilization Clinician Moniqueca Long. "I don't want to say we don't [call 911], but it's never our goal to involve law enforcement right away to arrest anyone or hospitalize when it's not necessary." 
Since the rollout of the Lifeline last July, providers have been experiencing an increase in demand; national data for February 2023 shows a 48 percent increase in answered calls, a 247 percent increase in answered chats, and a 1599 percent increase in answered texts from the same period last year. C4's call volume per month currently averages four times that of the volume before the launch. During March, we received 765 calls. 
May is Mental Health Awareness Month – a time for reflection not only on our own wellness and recovery, but to consider what opportunities we can advance for others. The Lifeline is a leap forward made possible by many strides taken in research, advocacy, and policy dating back to 2001, when congress first appropriated funding for a national suicide prevention hotline. Since then, both awareness of the service and demand for it have skyrocketed, the latter due in part to the mental and emotional strain the ongoing COVID-19 pandemic has caused. In the wake of the virus and insufficient prevention policy at local, state, and federal levels, low-barrier access to resources like the 988 Lifeline is more important than ever, especially for BIPOC, low-income and disabled individuals, for whom the effects of the pandemic have been even more devastating.  
"The launch of the 988 program, to me, means an increase in awareness and accessibility of services for mental health," said Hilda Hernandez, Crisis Stabilization Supervisor. "I think that it is incredibly important that, in a city such Chicago, these services exist, and that people are able to access them free of charge and with no waiting lists attached. After speaking to multiple people in crisis, most people have never received mental health services because they do not know how to start this process or are in some kind of waiting list for services." 
Whether we share resources, encourage others to seek help, or simply are there for someone when they need us, we instill hope and can help others to reach out when they need to most. Further resources can be found at 988lifeline.org and at bethe1to.com. 
Support C4's mission and our 988 staff: click here to make a contribution.